Episodes
Friday May 19, 2023
Friday May 19, 2023
Retail futurist Matthew Brown (Echochamber) guides Ger Keohane (StudioForty9) and Gordon Newman  (Omnichannels Stories) through excellence in retail customer experience.
Along the way, we unbox an absolutely lush gift package from Faerly, an Irish online retailer that specialises in local and sustainable products that deliver the right amount of happy moments.
But Matthew, Gordon and Ger aren't alone! Audio gremlins manage to slither in and feast on the audio in places. Does it stop the intrepid trio? It does not.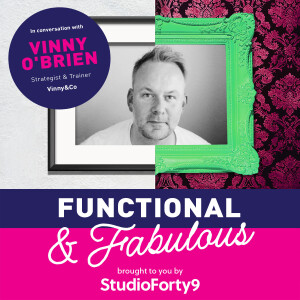 Friday Apr 21, 2023
Friday Apr 21, 2023
Gordon Newman (Omnichannels Stories) and Ger Keohane (StudioForty9) are joined by ecommerce strategist and trainer Vinny O'Brien live on stage at StudioForty9's annual Excellence in Ecommerce Conference in Dublin.
Wednesday Mar 22, 2023
Wednesday Mar 22, 2023
Join Ger Keohane (StudioForty9) and Gordon Newman (Omnichannel Stories) as they embark on a voyage of discovery in the world of online retail. In this episode, their guide is Dean McElwee, Director of Global eCommerce Collaboration and Director of International eCommerce Strategy, Global Tools and Storage with Stanley Black & Decker, Inc. Their journey starts with an unboxing experience provided by Velo Coffee Roasters in Cork.
Functional and Fabulous Insights into Online Retail and Digital Transformation
Functional & Fabulous is the must-hear podcast for anyone in (online) retail. In each episode, industry veterans Ger Keohane of StudioForty9 (Functional) and Gordon Newman of Omnichannel Stories (Fabulous) go on a journey of discovery, guided by a stellar guest from the world of retail.
Come along, learn and laugh.